Chau Viet Shanh (Simon Chau)
His cheeky half grin, yellow skin, and dark hair may be the first thing you'll notice about Simon Chau. And this may come as a shock, once you have tasted his food, which you'll remember for years to come.
Simon Chau was born in 1957 Vietnam, Study in Minh Yuen High School, Saigon, South Vietnam. Here in Vietnam, he was introduced to the strong spice of Vietnam cuisine, the lemon grass, Thai basil, coconut, curry spices, which he continues to be influenced by in his cooking till today.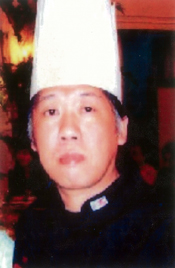 During the 197~ Vietnam War, he escapes to Hong Kong as a refugee. It was here in the refugee camp. Simon exper.~enGe large vchime cooking. He volunteers to cook for more than a thousand people. Later when the Hong Kong administration opens up the refugee camp; for the refugee to work in Hong Kong, Simon was offered a job in Vietnamese restaurant by. the social worker. To develop his cooking skill, Simon joins the "Dick Fat Cooking Institute, Kowloon, Hong Kong" Where he got his Diploma "Chinese dish preparation and banquet Style àooking.
Simon came to Canada in 1981, worked as the head chef in Cho Lon Vietnamese Restaurant. Richmond Hill, Ontario: At the same time Simon wanted to develop his English, he enrolls, into "Centennial College, Toronto."
In 1998 to 2006. Simon opens his own 6O seats "Miss Saigon Vietnamese Restaurant". As an owner and the Head Chef, he supervised his staff in preparation of traditional Southern Vietnamese foods. As well as stocking and cost control. He then sold his restaurant. Move to his long love and passion native Vietnam. Work as Head chef in Long Beach's Ancient Village Resort & Spa. 2006 to 2008. After his two-year contract, Simon came back to Canada. He was selected into the Chinese cooking Canada team He went to Beijing for the 6 world championship of Chinese Cuisine Where he got a gold medal in not dish category, personal competition After coming back from the competition Simon joined the Star Work restaurant, Toronto. Later in 2012 Simon helps open the Maxx Seafood & Grill.
Simon has a great personality, he is easy going. Everyone who know him or work with him will ever remember him screaming, or shouting, giving abusive word. Simon takes good care of his staff, by listen to their problem, now and then he would ask if anyone is hungry, and serve food to them. He is always nice, forgiving, willing to teach whatever he knows. He would jump in wherever is busy, give the dishwasher a hand, even help dispose of garbage. Thus commanding a great deal of trust and respect.
Simon loves to do cooking shows. He had a number of good reviews If anyone who wanted to be a good chef should follow the footstep of Simon.